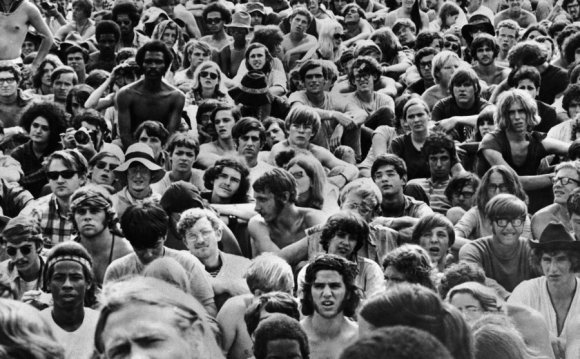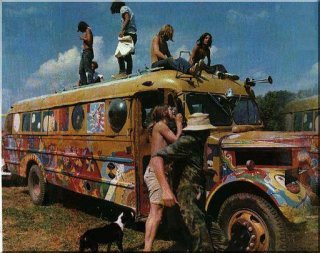 The Woodstock Music and Art Fair was an event held at Max Yasgur's 600 acre (2.4 km²) dairy farm in the rural town of Bethel, New York from August 15 to August 18, 1969. For many, it exemplified the counterculture of the 1960s and the "hippie era." Many of the best-known musicians of the time appeared during the rainy weekend, captured in a successful 1970 movie, Woodstock. Joni Mitchell's song "Woodstock, " which memorialized the event, became a major hit for Crosby, Stills, Nash & Young. Though attempts have been made over the years to recreate the festival, the original Woodstock festival of 1969 has proven to be unique and legendary.
Woodstock has been idealized in the American popular culture as the culmination of the hippie movement. - What started as a paid event ended being free with over 500, 000 attendees or flower children. Although the festival was remarkably peaceful given the number of people and conditions involved, the reality was less than perfect. Woodstock did have some crime and other misbehavior, as well as a fatality from a drug overdose, an accidental death caused by an occupied sleeping bag being run over by a tractor and one participant died from falling off a scaffold. There were also three miscarriages and two births recorded at the event and colossal logistical headaches. Furthermore, because Woodstock was not intended for such a large crowd, there were not enough resources such as portable toilets and first-aid tents. As a matter of fact the original plan for holding the festival in Wallkill, NY was scrapped because the town officially banned it on the grounds that the planned portable toilets wouldn't meet town code. Maybe they would have preferred full bathroom suites.
There was some profiteering in the sale of "electric Kool-Aid."
Woodstock began as a profit-making venture; it only became a free festival after it became obvious that the concert was drawing hundreds of thousands more people than the organizers had prepared for, and that the fence had been torn down by eager, unticketed arrivals. Tickets for the event (sold in 1969) cost US $18 to buy a ticket in advance (which would be US$95.58 in 2005 with inflation factored in) and $24 to buy a ticket at the gate for all three days. Ticket sales were limited to record stores in the greater New York City area, or by mail via a Post Office Box at the Radio City Station Post Office located in Midtown Manhattan.
Yet, in tune with the idealistic hopes of the 1960s, Woodstock satisfied most attendees. Especially memorable were the sense of social harmony, the quality of music, and the overwhelming mass of people, many sporting bohemian dress, behavior, and attitudes
Click Here For More Woodstock Photos
Performers and Schedule of Events
Friday, August 15
The first day, which officially began at 5:08 p.m. with Richie Havens, featured folk artists.
Richie Havens (opened the festival - performed 7 encores)
High Flyin' Bird
I Can't Make It Anymore
With A Little Help w/ me
Strawberry Fields Forever
Hey Jude
I Had A Woman
Handsome Johnny
Freedom/Motherless Child
Swami Satchidananda - gave the invocation for the festival
Country Joe McDonald, played separate set from his band, The Fish
I Find Myself Missing You
Rockin All Around The World
Flyin' High All Over the World
Seen A Rocket flyin
The "Fish" Cheer/I-Feel-Like-I'm-Fixin'-To-Die Rag
John Sebastian
How Have You Been
Rainbows Over Your Blues
I Had A Dream
Younger Generation
Sweetwater
What's Wrong
Motherless Child
Look Out
For Pete's Sake
Day Song
Crystal Spider
Two Worlds
Why Oh Why
Incredible String Band
Invocation
The Letter
This Moment
When You Find Out Who You Are
Bert Sommer
Jennifer
The Road To Travel
I Wondered Where You Be
She's Gone
Things Are Going my Way
And When It's Over
Jeanette
America
A Note That Read
Smile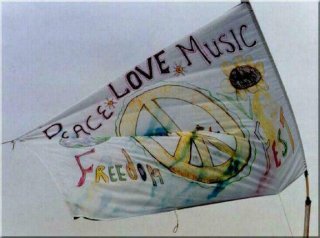 Tim Hardin, an hour-long set
If I Were A Carpenter
Misty Roses
Ravi Shankar, with a 5-song set, played through the rain
Raga Puriya-Dhanashri/Gat In Sawarital
Tabla Solo In Jhaptal
Raga Manj Kmahaj
Iap Jor
Dhun In Kaharwa Tal
Melanie
Beautiful People
Birthday of The Sun
Arlo Guthrie
Coming Into Los Angeles
Walking Down The Line
Amazing Grace
Joan Baez
Oh Happy Day
The Last Thing On My Mind
I Shall Be Released
Joe Hill
Sweet Sir Galahad
Hickory Wind
Drug Store Truck Driving Man
(I Live) One Day at a Time
Sweet Sunny South
Warm and Tender Love
Swing Low Sweet Chariot
We Shall Overcome
Baez Source: Arthur Levy, annotator of the expanded editions of the 12 Joan Baez CDs on Vanguard
Saturday, August 16
The day opened at 12:15 pm, and featured some of the event's biggest psychedelic and guitar rock headliners.
Quill, forty minute set of four songs
They Live the Life
BBY
Waitin' For You
Jam
Keef Hartley Band
Spanish Fly
Believe In You
Rock Me Baby
Medley
Leavin' fuct
Halfbreed
Just To Cry
Sinnin' For You
Santana
Waiting
You Just Don't Care
Savior
Jingo
Persuasion
Soul Sacrifice
Fried Neckbones
Canned Heat
A Change Is Gonna Come/Leaving This Town
Going Up The Country
Let's Work Together
Woodstock Boogie
Mountain, hour-long set including Jack Bruce's "Theme For An Imaginary Western"
Blood of the Sun
Stormy Monday
Long Red
Who Am I But You And The Sun
Beside The Sea
For Yasgur's Farm (then untitled)
You and Me
Theme For An Imaginary Western
Waiting To Take You Away
Dreams of Milk and Honey
Blind Man
Blue Suede Shoes
Southbound Train
Janis Joplin (Performed 2 encores; Piece of My Heart and Ball and Chain).
Raise Your Hand
As Good As You've Been To This World
To Love Somebody
Summertime
Try (Just A Little Bit Harder)
Kosmic Blues
Can't Turn you Loose
Work Me Lord
Piece of My Heart
Ball and Chain
Sly & the Family Stone started at 1:30 am
M'Lady
Sing A Simple Song
You Can Make It If You Try
Everyday People
Dance To The Music
I Want To Take You Higher
Love City
Stand!
Grateful Dead
St. Stephen
Mama Tried
Dark Star/High Time
Turn On Your Love Light

Creedence Clearwater Revival
Born on the Bayou
Green River
Ninety-Nine and a Half (Won't Do)
Commotion
Bootleg
Bad Moon Rising
Proud Mary
I Put A Spell On You
Night Time is the Right Time
Keep On Chooglin'
Suzy Q
The Who began at 3 AM, kicking off a 24-song set including Tommy
Heaven and Hell
I Can't Explain
It's a Boy
1921
Amazing Journey
Sparks
Eyesight to the Blind
Christmas
Tommy Can You Hear Me?
Acid Queen
Pinball Wizard
Fiddle About
There's a Doctor
Go to the Mirror
Smash the Mirror
I'm Free
Tommy's Holiday Camp
We're Not Gonna Take It
See Me, Feel Me
Summertime Blues
Shakin' All Over
My Generation
Naked Eye
Jefferson Airplane began at 8 a.m. with an eight-song set, capping off the overnight marathon.
Volunteers
Somebody To Love
The Other Side of This Life
Plastic Fantastic Lover
Won't You Try/Saturday Afternoon
Eskimo Blue Day
Uncle Sam's Blues
White Rabbit
Sunday, August 17 to Monday, August 18
Joe Cocker was the first act on the last officially booked day (Sunday); he opened up for the day's booked acts at 2 PM. The day's events ultimately drove the schedule nine hours late. By dawn, the concert was continuing in spite of attendees' having left, returning to the workweek and their other normal obligations.
Joe Cocker

Delta Lady
Some Things Goin' On
Let's Go Get Stoned
I Shall Be Released
With a Little Help from My Friends

After Joe Cocker's set, a storm disrupted the events for several hours.
Country Joe and the Fish resumed the concert around 6 p.m.

Rock and Soul Music
Thing Called Love
Love Machine
The "Fish" Cheer/I-Feel-Like-I'm-Fixin'-To-Die Rag

Ten Years After

Good Morning Little Schoolgirl
I Can't Keep From Crying Sometimes
I May Be Wrong, But I Won't Be Wrong Always
Hear Me Calling
I'm Going Home

The Band - Set list confirmed via Levon Helm's book "This Wheel's On Fire"

Chest Fever
Tears of Rage
We Can Talk
Don't You Tell Henry
Don't Do It
Ain't No More Cane
Long Black Veil
This Wheel's On Fire
The Weight
Loving You Is Sweeter Than Ever

Blood, Sweat and Tears ushered in the midnight hour with five songs.

More and More
I Love You Baby More Than You Ever Know
Spinning Wheel
I Stand Accused
Something Coming On

Johnny Winter featuring Edgar Winter, his brother, on two songs.

Mama, Talk to Your Daughter
To Tell the Truth
Johnny B. Goode
Six Feet In the Ground
Leland Mississippi Blues/Rock Me Baby
Mean Mistreater
I Can't Stand It (With Edgar Winter)
Tobacco Road (With Edgar Winter)
Mean Town Blues

Crosby, Stills, Nash & Young began around 3 a.m. with separate acoustic and electric sets.

Suite: Judy Blue Eyes
Blackbird
Helplessly Hoping
Guinnevere
Marrakesh Express
4 + 20
Mr. Soul
Wonderin'
You Don't Have To Cry

Pre-Road Downs
Long Time Gone
Bluebird
Sea of Madness
Wooden Ships
Find the Cost of Freedom
49 Bye-Byes

Paul Butterfield Blues Band

Everything's Gonna Be Alright
Driftin'
Born Under A Bad Sign
Morning Sunrise
Love March

Sha-Na-Na

Na Na Theme
Yakety Yak
Teen Angel
Jailhouse Rock
Wipe Out
(Who Wrote) The Book of Love
Duke of Earl
At the Hop

Jimi Hendrix had insisted on being the final performer of the festival and was scheduled to perform at midnight. Due to various delays, he did not take the stage until nine o'clock on Monday morning. The crowd, estimated at over 400, 000 at its peak, is reported to have been no larger than 80, 000 when his performance began. His set lasted two hours - the longest of his career - and featured 17 songs, concluding with "Hey Joe"; but it played to a relatively empty field. The full list of Hendrix's Woodstock performance repertoire follows:

Message to Love
Hear My Train A Comin'
Spanish Castle Magic
Red House
Mastermind
Lover Man
Foxy Lady
Jam Back At The House
Izabella
Gypsy Woman
Fire
Voodoo Child (Slight Return)/Stepping Stone
Star Spangled Banner
Purple Haze
Woodstock Improvisation
Villanova Junction
Hey Joe
Source: www.the60sofficialsite.com
RELATED VIDEO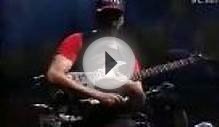 Woodstock Rock Festival 99 3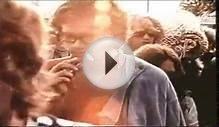 Dutch Woodstock - 1970 Stamping Ground Rock Festival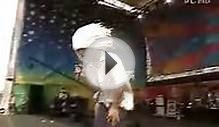 Woodstock Rock Festival 99 1
Share this Post