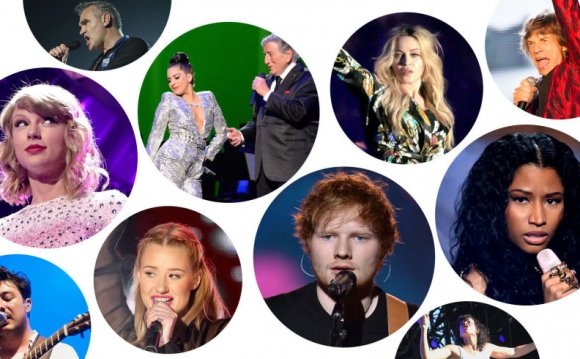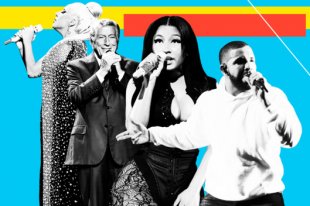 This month Vulture will be publishing our critics' year-end lists. So far we've covered TV, movies, albums, songs, books, theater, art, classical performances, and video games. Today we add podcasts and concerts*.
1. Tony Bennett and Lady Gaga at Radio City Music Hall (June 22)
A stirring, stunning homecoming for two New York legends — one reigning and one rising. The night's most goose-bump-inducing moment was a tie between an elegant, post-Oscar-performance-redemption Gaga slaying "La Vie en Rose" and the incomparable Tony belting out "Fly Me to the Moon, " dedicated to his old friend Frank.
Related Stories
The 10 Best Albums of 2015 The 10 Best Songs of 2015 The 10 Best Podcasts and 10 Best Podcast Episodes of 2015
2. Jenny Hval at Basilica Soundscape Hudson (September 12)
Basilica Soundscape in Hudson is fast becoming one of my favorite music festivals, because unlike the sensory overload of larger gatherings, it's refreshingly chill. Readings and art exhibits mingle seamlessly with music, and Norwegian songwriter Jenny Hval's wonderful performance felt like a combination of all those things. While reciting the lyrics to her strange, spoken-word–PJ Harvey–esque incantations, she bounced on an exercise ball, doused herself in fake blood, and at one point took out her phone and recorded a video of the audience as we watched one of her backup dancers — a swaying Greek chorus of thrift-store brides — sing a very punk-rock cover of a Lana Del Rey song. Our expressions, I'm sure, were some combination of confusion, surprise, and irrepressible delight.
3. Sleater-Kinney at Terminal 5 (February 26)
Sleater-Kinney's comeback tour could have easily been a placid, self-congratulatory victory lap, but onstage, two decades into their reign, the band is still as hungry as ever. Janet Weiss booms behind the kit like a statue come to life, Carrie Brownstein plays the rock star with a sparking, twitchy energy, Corin Tucker channels that one-in-a-million voice from somewhere else. For once in my life, I did not complain about making the trek home from Termiserable 5.
4. Blur at Madison Square Garden (October 23)
One of just two U.S. dates on their tour for The Magic Whip, Blur illuminated the Garden with soccer-chant-volume sing-alongs of their stacked back catalogue. Undisputed highlight: When a teen girl plucked from the audience nailed every word to Phil Daniels's spoken-word verse of "Parklife." That's entertainment!
5. Drake at Governors Ball (June 5)
Live performance has never been one of Drake's strengths, but his triumphant and energetic show headlining Governors Ball proved an exception. Never underestimate the power of an entire island's worth of people screaming, "WITH MY WOES!"
6. Buffy Sainte-Marie at the Highline Ballroom (May 20)
This year the indomitable Buffy Sainte-Marie won Canada's prestigious Polaris Prize, deservedly, for her nervy record Power in the Blood. Her show at the Highline Ballroom proved she's as vital as ever, and that plenty of her searingly humane antiwar classics (particularly "Universal Soldier") remain depressingly relevant.
7. Florence + the Machine at Music Hall of Williamsburg (May 25)
For a decent chunk of this year, Florence Welch had a broken leg. It was oddly riveting to see such an energetic performer confined to a stool, visibly trembling with intensity to spare. SNL viewers got to experience this during her terrific performance of "What Kind of Man, " but I feel lucky to have had a chance to see it in a venue as small as Music Hall of Williamsburg, where Welch turned songs of angst and pain into cathartic, beautiful sing-alongs.
Source: www.vulture.com
RELATED VIDEO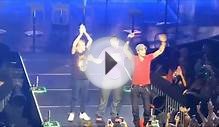 ENRIQUE IGLESIAS BEST MOMENTS FROM CONCERTS 2015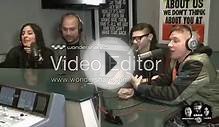 Skrillex Best 2015 Concert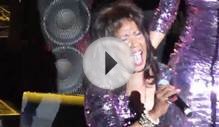 The Emotions 2015 Concert - Best Of My Love Live
Share this Post