Starting life in 1977, the band tested several different names, from Shooze to The Generators, before deciding upon Kix. Performing regularly in Baltimore, they established themselves' as one of the city's most popular hard rock bands, attracting the attention of Atlantic Records, with whom they signed with in 1981. Featuring frontman Steve Whitman, drummer Kimmy Chalfont, bassist Donnie Purnell (the creative force of the band) and guitarists Ronnie Younkins and Brian Jay Forsythe. Their self-titled debut came out that same year, following which the band toured the east coast extensively. Their second, "Cool Kids, " in 1983, displayed a more mainstream, commercial sound, appearing as an attempt to appease their label.
Kid effectively had their entire stage act stolen from them by the younger band, Poison, who emulated Kix's glam metal, with their frontman Brett Michaels mimicking the style of Whiteman. Witnessing this younger, more popular act copy their signature sound shocked Kix, although they remained undeterred, returning to the studio in 1988 for "Blow My Fuse." The album was to be their breakthrough hit, featuring the massively successful single, "Don't Close Your Eyes, " which peaked at number 11 on the Billboard Hot 100. The band moved from small venues to arena performances, gaining support slots for the likes of AC/DC, Aerosmith and David Lee Roth. Despite this success, financially, Kix had made no one off the record, finding themselves in debt to Atlantic Records. Returning with their fifth album, "Hot Wire, " in 1991, Kix also found themselves with an ever decreasing audience, due the explosion of grunge and alt. rock dominating the mainstream rock charts. Their brand of hard-rocking glam metal was consigned to antiquity as new acts like Mudhoney, Sonic Youth and Nirvana moved in.
Kid continued to tour and make releases. However, these records continuously failed to live up to expectations, with mediocre sales and decreasing audience sizes. Enthusiasm for the band waned and members embarked on various side projects between 1996 and 2002. Yet in 2003, a new version of Kix returned, albeit without band leader Donnie Purnell. After persistent touring, Kix eventually gained a new recording contract with Frontiers Records in 2012, releasing a live CD/DVD, "Live in Baltimore." They then returned to the studio for their first full-length album in almost twenty years, releasing "Rock Your Face Off" in 2014.
Source: www.songkick.com
RELATED VIDEO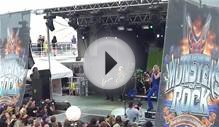 KIX - The Itch - Monsters of Rock 2013
Kix- Dont Close Your Eyes (2012 Monsters Of Rock Cruise)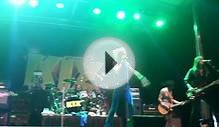 KIX rocks Blobs Park/Breast Cancer Awareness Fest/June 2013/#3
Share this Post