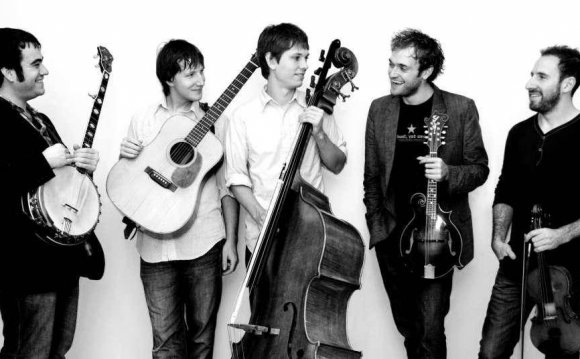 Another year, another terrific year for bluegrass. We say this every year, admittedly, but it's never been more true than in 2014. As new music lovers continue to get turned on to the vintage tones of acoustic picking, bluegrass bands old and new are reaching larger audiences, and the summer festival scene is brimming with bluegrass acts and fans who are ready to pogo along to their shows.
Veterans like Del McCoury, J.D. Crowe, and Doyle Lawson continued to tour in 2014 behind some of the most vital recordings of their careers. Other traditionally-minded bluegrass bands recorded solid new material: Rhonda Vincent's Only Me, Blue Highway's The Game (celebrating their 20th year as a band), The Lonesome River Band's Turn on a Dime, and Michael Cleveland & Flamekeeper's On Down the Line are a few fine examples.
The great wave of newgrass legends from the Big Bang of Newgrass in the '70s kept on keeping on, representing the golden age of bluegrass where classicism meets trailblazing instrumental genius. John Cowan, in reference to the age he and his cohorts are turning, released Sixty, a star-packed album (which made PopMatters' Best Americana list for 2014) that finds him still in mountain-high form. Jerry Douglas, Béla Fleck, and Tim O'Brien continued to collaborate, tour, and record at relentless paces and with fresh creative energy. Sam Bush played the Telluride Bluegrass Festival in Colorado for the 40th straight year, as the Festival's organizers Planet Bluegrass pulled off a herculean feat by returning stronger than ever from last year's historic flooding in Lyons, CO.
This year also breakups and reunions within two of the bands most responsible for multiplying bluegrass audiences in the '90s. Yonder Mountain String Band announced the departure of longtime mandolinist and singer Jeff Austin, vowing nonetheless to forge ahead without him. At the same time, the platinum-selling Nickel Creek reformed for a highly successful reunion album and tour, all the while Nickel Creek frontman Chris Thile readied a new Punch Brothers album, The Phosphorescent Blues, due out in early 2015. Also, a revitalized Leftover Salmon dropped a new record, the appropriately titled High Country, at year's end and officially added Little Feat pianist Bill Payne to the permanent lineup.
Finally, a young breed of progressive bluegrassers and shaggy jamgrass bands laid claim to the next generation of hippies and hipsters. Some of these bands, like Trampled by Turtles and Greensky Bluegrass, with new albums of original material in 2014, graduated to the main stage at megafestivals, as modern bluegrass continued to evolve, getting more experimental and more popular than ever before.
All of it adds up to make 2014 the best year for recorded bluegrass music in quite some time. Here then are the Top Ten bluegrass albums of the year among a very crowded field.
10
Frank Solivan and Dirty Kitchen
Cold Spell
Frank Solivan and the sterling musicians in the Dirty Kitchen (banjo trickster Mike Munford, extrasensory bassist Danny Booth, and dextrous-digited guitarist Chris Luquette) have been giving the entire bluegrass community the vapors. This happened first with 2010's red-hot self-titled record, and was then followed with last year's On the Edge, an expertly-played set of ringers that landed at number one on this very list last year. These albums launched the band to the top of the contemporary scene by combining in-the-pocket instrumental precision, commanding vocals, and soulful songwriting. In 2014, the band went even further, graduating to the Telluride Bluegrass main stage, getting nominated for a Grammy, and releasing another new set of original material with Cold Spell. Guest dobroist Rob Ickes of Blue Highway expands the band's sound on a few tunes here. The Kitchen cooks up a fresh round of intricate, multipart instrumentals ("Yeah Man", "Chief Taghkanic") and refined Chris Thile-esque ballads ("Better (Days Go By)", "Missing You"). Frank and Co. also exercise their burgeoning clout by calling up appearances from Sam Bush and John Cowan, a duo whose presence makes sense, as Frank Solivan and Dirty Kitchen have sealed their place as worthy inheritors of the New Grass Revival legacy.
(Ten In Hand)
Hot Rize
When I'm Free
Source: www.popmatters.com
RELATED VIDEO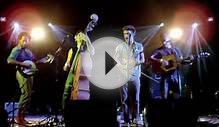 Whiskey Shivers - Folk Bluegrass Band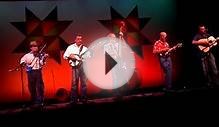 Bearwallow Bluegrass Band at Asheville Folk Festival 8-5-11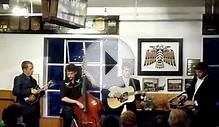 Jericho Folk - Bluegrass Band from Nova Scotia
Share this Post