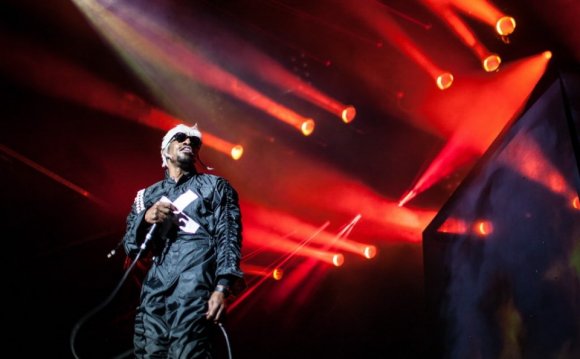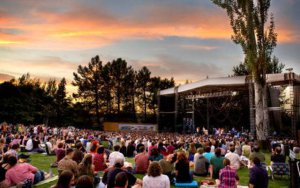 A summer without music is like a swimming hole without water. Below, we've pooled so many sonic opportunities, you're probably gonna want to dry off halfway down the list. Grab your beach towel and keep scrolling, though—our summer calendar starts with one-off outdoor concerts, then packs in festivals all the way through Labor Day, and wrap ups with some out-of-town options (road trip!).
We'll be adding more concerts and lineups as announced, so check back frequently.
OUTDOOR CONCERTS A LA CARTE
McMenamins Edgefield Concerts on the LawnSelect shows below—for full lineup visit series website.
6/16—Ingrid Michaelson
6/26—Willie Nelson with Alison Krauss and Union Station
7/8—Death Cab for Cutie with Built to Spill
7/10–11—The Decemberists with Calexico
7/14—David Gray with Amos Lee
7/23—Morrissey
7/25—Barenaked Ladies with Violent Femmes and Colin Hay
7/26—Charli XCX and Bleachers
8/9—Wilco
8/21—Michael Franti and Spearhead
8/28–29—Pink Martini
9/5—Ben Harper and the Innocent Criminals
9/12—Brandi Carlile
9/18—Empire of the Sun with St. Lucia and Holy Ghost!
Oregon Zoo Summer Concert Series
Select shows below—for full lineup visit series website.
6/21—Chicago
6/27—The B-52s
7/11—Indigo Girls and Caroline Aiken
7/17—Needtobreathe
7/25—Mavis Staples, Patty Griffin, Amy Helm and the Handsome Strangers
7/31—Emmylou Harris and Rodney Crowell
8/8—Ziggy Marley
8/22—Chris Isaak
9/5–6—Weird Al Yankovic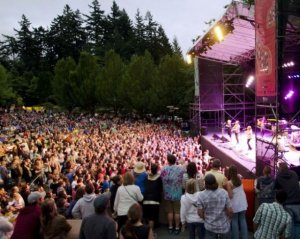 Summer Free for All: Concerts in the Park
Pick any evening this summer; there's likely to be a free concert at a park near you. Select shows below—visit the series website for the full schedule. All shows at 6:30 pm.
7/7—Freak Mountain Ramblers, Mt Tabor Park
7/13—Ural Thomas and the Pain, Sellwood Riverfront Park
7/15—The Stolen Sweets, Willamette Park
7/29—Pilon D'Azucar Band, Dawson Park
8/4—Chata Addy, Fernhill Park
8/6—The Wanderlust Orchestra, Couch Park
8/12—Pete Krebs and the Earnest Lovers, Ventura Park
8/14—Curtis Salgado, Lovejoy Fountain Park
Washington Park Summer Festival
Parklandia in the West Hills! All Washington Park concerts are free and at 6 pm.
8/7—Brass Ops: 234th Army Band, Oregon National Guard
8/8—Opera in the Park
8/9—Portland Festival Symphony
8/10—Reggie Houston's Crescent City Connection
8/11—Johnny Limbo and the Lugnuts
8/12—The Many Colors of Edna Vazquez
8/13—Tizer Quartet
Portland Festival Symphony Concerts
Directed by Lajos Balogh, these free classical concerts—think Beethoven, Mozart, Dvorák—start at 6 pm, alfresco!
7/25—Cathedral Park
8/1—Laurelhurst Park
8/2—Peninsula Park
8/8—U. S. Grant Park
8/9—Washington Park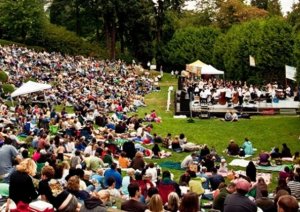 Free First Thursday concerts, from 5:30–8 pm, outside Ecotrust's Natural Capital Center. Lineup announced on June 5.
FESTIVALS
(Quincy, WA): Worth the hassle of battling Memorial Day weekend traffic? Sleater-Kinney and Modest Mouse join Robert Plant, St. Vincent, Spoon, and Tame Impala at the Gorge Ampitheater.
: Free jazz legend Roscoe Mitchell hits Portland for the first time in over two decades to headline the fourth annual experimental music festival.
(Wolf Run Ranch): If three days of LED-studded EDM—headliners include Big Gigantic and Odesza—sound like your cup of something-that's-probably-not-tea, head toward Dufur for the "millennial generation's Woodstock."
: Billed as the most ambitious chamber music festival in the Northwest, highlights of the 45th Summer Fest include partnerships with the Northwest Dance Project and—in Eugene—the Oregon Bach Festival.
6/26–27—Quiet Music Fest: Transforming Disjecta, for the fifth time, into a "tranquil cave of sonic serenity, " organizer Chris Johanson's 2015 sleeper brings out the softest side of musical artists including Stephen Malkmus and the Jicks, Irma Vep, and Rebecca Gates of the Spinanes.
: Few are bluesier than headliner Buddy Guy, but attempting that feat, this year, are Stone Foxes, Jelly Bread, Galactic, and Macy Gray.
(Carnation, WA): Waiting for you in the woods: Dead Milkmen, Shaprece, and the sparkling surf rock of La Luz.
(Horning's Hideout). Surprise! Yonder Mountain String Band headlines this year's string-off. Also the Del McCoury Band, Greyboy Allstars, the Infamous Stringdusters, and oh, hello, Shook Twins.
: Among St. John's smooth draws: Kung Pao Chickens, Hailey Niswanger's PDX Soul, and the Paul Creighton Project.
: Light lager, big names. This year PBR brings us Weezer, Blondie, Wampire, Aimee Mann and Ted Leo, and more.
(Sheridan): Slim Cessna's Auto Club, Willie Tea Taylor, Big Harp, and locals like Joe McMurrian and Run on Sentence.
: Beware! For three days, effervescent Portland pop acts lurk under the Hawthorne Bridge.
(Scio): Lineup TBA
(Pendarvis Farm): Headliners include Tune-Yards, Ty Segall, Leon Bridges, Cloud Nothings, and Heartless Bastards. (Strings know no borders; the lineup also includes Tuareg desert blues band Tinariwen.)
(Gorge Ampitheatre): Carrie Underwood, Dierks Bentley, and the Florida Georgia Line headline this rollicking country western fest at one of the nation's top outdoor venues.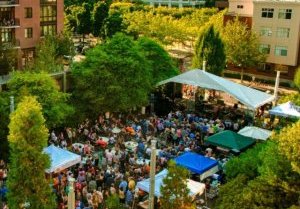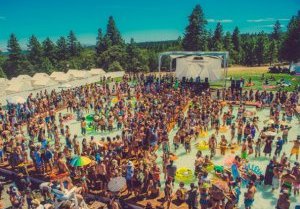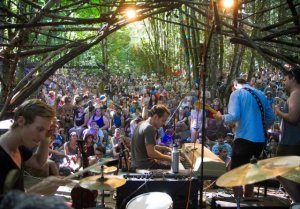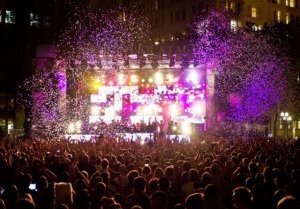 Source: www.pdxmonthly.com
RELATED VIDEO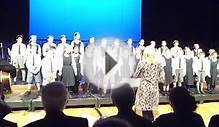 Roydvale Choir @ North West Music Festival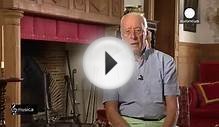 musica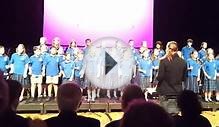 Breens Choir @ North West Music Festival
Share this Post